In the mood for a good steak of some sort, I stormed right to the freezer to look for raw materials. Two giant turkey wings were just at my eyes' level, ready to fly off the rack. Now, there is a bit of a problem when dealing with turkey wings – they are big but not as big as a whole turkey that might spend hours slowly roasting in an oven. And it might also be an aesthetic problem – they look so strangely on a plate, oversized chicken wings that don't fit well.
Despite all the above inconveniences, coated in garlic flavored flour, fried in butter and olive oil, and served with grilled pineapple and an exotically aromatic sauce with sweet and spicy tones, they were fantastic!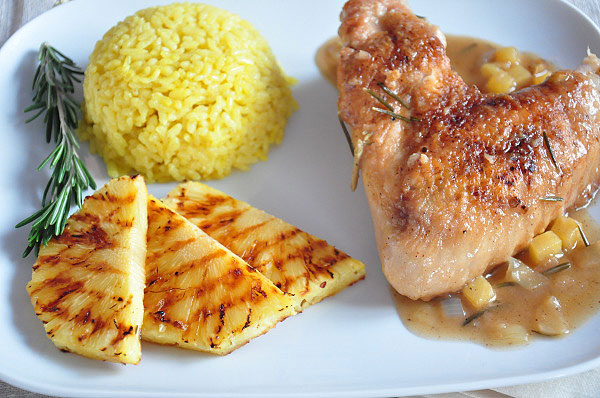 Utensils: a skillet with lid, a grill
Serves 2; prep. time 70 minutes
Ingredients:
2 turkey wings or two pieces of turkey breast
2 twigs of rosemary, chopped
2 tbsp sugar
1/2 fresh pineapple (lengthwise)
1/2 onion, diced
1-2 red chilies, seeded and chopped
2 cups of chicken stock
2 tbsp butter
4 tbsp olive oil
1 cup Madeira wine (semi-dry)
1 tbsp flour + 5 tbsp flour for coating the meat
1 tsp garlic powder
salt and pepper
Peel the pineapple, cut 6 slices (approximately 1 finger thick) and dice the rest.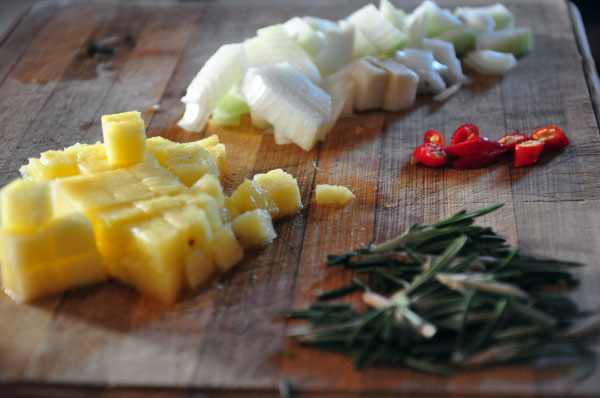 Coat turkey meat with flour combined with garlic powder, salt and pepper.
In a skillet, heat the butter and the olive oil over medium heat. Once the butter has melted, add the meat and brown it on all sides. Remove a part of the oil from the skillet with a spoon. Stir in the diced onion, pineapple, red chili and rosemary and saute for 30 seconds. Stir in one tablespoon of floor and the sugar and, immediately, stir in the warm chicken stock and the Madeira wine.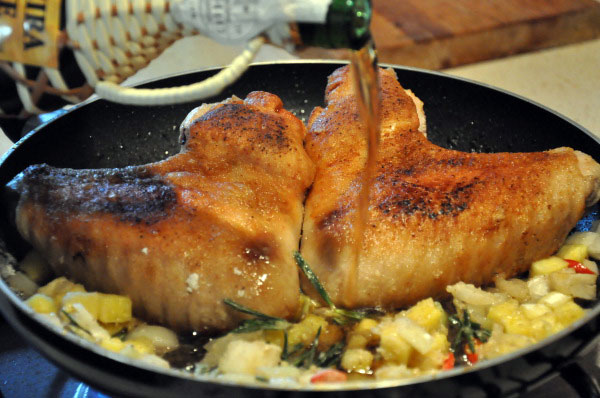 Cover and cook for about 30 minutes until the meat is done and the sauce has thicken. If the sauce has thicken too much, add in a little bit of warm water.
You can finely tune your sauce by adding more red chilies for a spicier note or more Madeira wine for extra flavor.
Madeira is a fortified Portuguese wine and can be replaced with Porto.
In the meantime, grill the pineapple slices on both sides.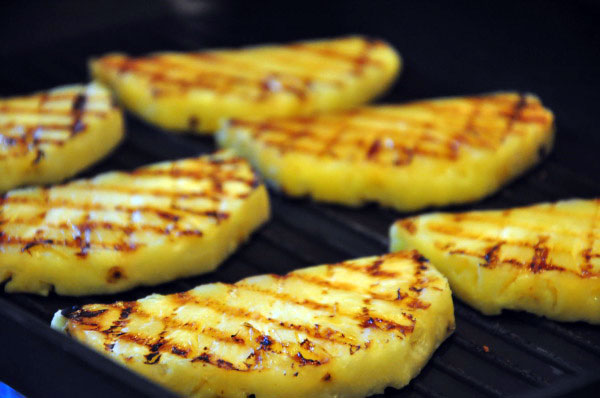 Serve the meat with the pineapple and Madeira sauce, next to grilled pineapple slices and some other side dishes like saffron rice or potatoes.
And here's my wing on my favorite plate (too small to fit grilled pineapple

).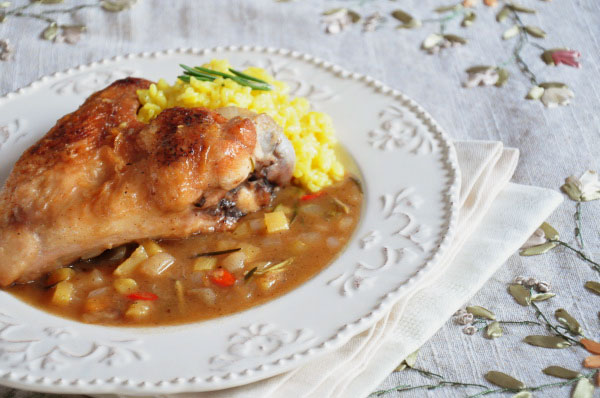 Related Posts :
Scallopine, escalope, schnitzel or scallop. I must confess that I was quite confused the first time I saw veal scallop on a menu wondering what a ...

A classic recipe on the menus of Chinese restaurants around the world (and I mean all the other countries except China :) ), this sweet&sour s ...