Friday is a day full of promises. The promise of a great weekend to come, the promise of spending spare time with the loved ones or just the promise of sitting and doing nothing. I've never really liked making plans for the weekend. Let's say I prefer to improvise. However, improvising or not, I always end up with people coming over, with us cooking, eating goodies and laughing, spending time with our friends. It might seem boring or tedious for some of you, but for us, it's a way of weekending. It's only lunch time on Friday and promises are floating in the air… Let's enjoy them with a fresh and crunchy salad with tuna chunks (not flakes), radish sprouts and big lemon bites. Have a great weekend!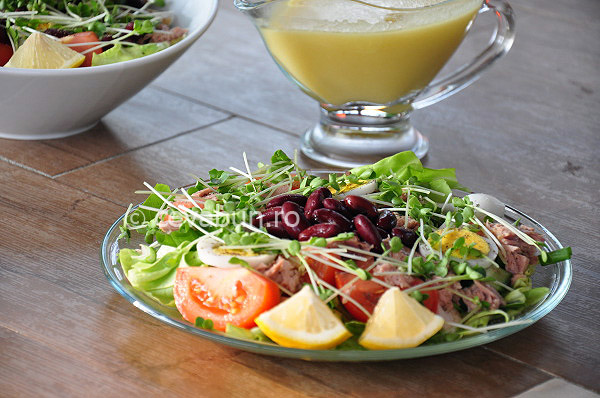 Serves 2, prep. time 25 minutes
Ingredients:
1 tuna can (chunks in water; approximately

180 grams

)
1 hard boiled egg
8 -10 green salad leaves
2 tomatoes
half of a long cucumber
4 green onions
4 tbsp red kidney beans (boiled or canned)
4 tbsp Japanese radish sprouts
6 tbsp classic vinaigrette
half of a lemon
freshly ground pepper
Prepare the ingredients:
- wash well the salad leaves and the radish sprouts and drain
- peel the hard boiled egg and sliced it
- slice the green onions, lengthwise
- cut the tomatoes and cucumber in large cubes
- open the tuna can and drain the juice
Place the salad leaves onto a serving plate. Add the tomatoes, cucumber, onion and egg. Add the tuna chunks. Add the kidney beans in the middle of the plate. Sprinkle the radish sprouts over. Grind some black pepper for extra taste and add the vinaigrette and lemon slices.
Even if it's very hot outside, avoid using very cold products for the salad; tomatoes have no taste whatsoever if they are straight from the refrigerator. In order to have a tasty but refreshing salad, use the ingredients at room temperature and add well-chilled vinaigrette.
Serve immediately. Enjoy!
Related Posts :
I like pasta. A lot. During these hot days I wanted something with pasta, of course, but refreshing. So, I chose a cold salad with pasta, tuna and ...

During the fasting period, it's quite popular around here to prepare beans salads in a very simple manner - putting together some boiled beans wit ...