I like pasta. A lot. During these hot days I wanted something with pasta, of course, but refreshing. So, I chose a cold salad with pasta, tuna and a nice vinaigrette, served chilled. A nice lunch, indeed!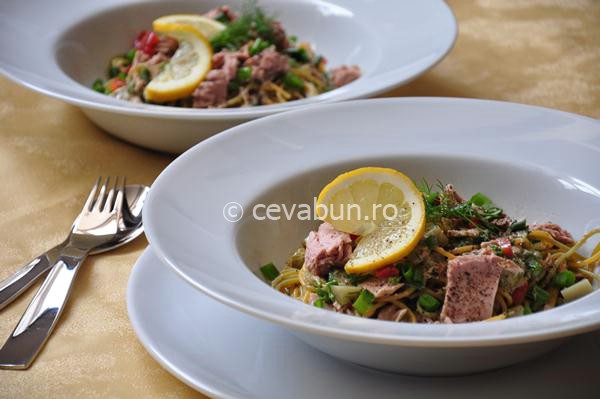 Serves 2, prep. time 30 minutes
Ingredients:
200 grams

spaghetti
1 tuna can (chunks, not flakes; in water)
1 green onion or 2 tbsp chopped chives
3 tsp Dijon mustard
2 tbsp pickled cucumbers (diced)
2 tbsp picked bell-peppers (diced)
2 tbsp lemon juice (freshly squeezed)
4 tbsp extra virgin olive oil
2 tbsp fresh dill (finely chopped)
salt & freshly ground black pepper
Boil the pasta al dente in water with a pinch of salt.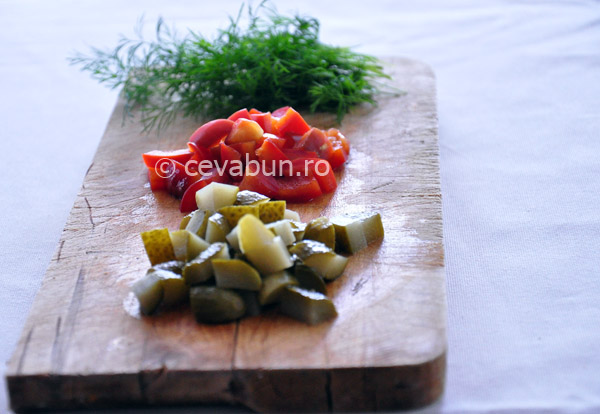 I used colored pasta (vegetable flavored) for a beautiful effect on the plate

.
Drain the pasta well and toss them with a tablespoon of olive oil (they won't be sticky).
Drain the tuna chunks and keep the water.
Prepare the vinaigrette: mix mustard, lemon juice and olive oil (it's like preparing a mayonnaise). Incorporate some water from the tuna. Add salt and pepper to taste.
In a salad bowl, toss the pasta with tuna, the vinaigrette, cucumbers & peppers and chopped chives and dill on top. Decorate with lemon slices.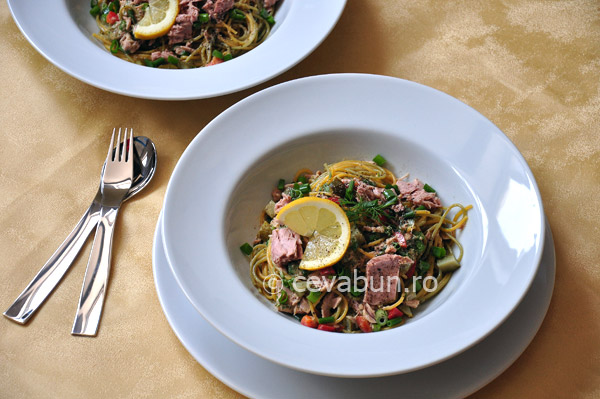 Serve at room temperature or chilled (20 minutes in the refrigerator). Enjoy!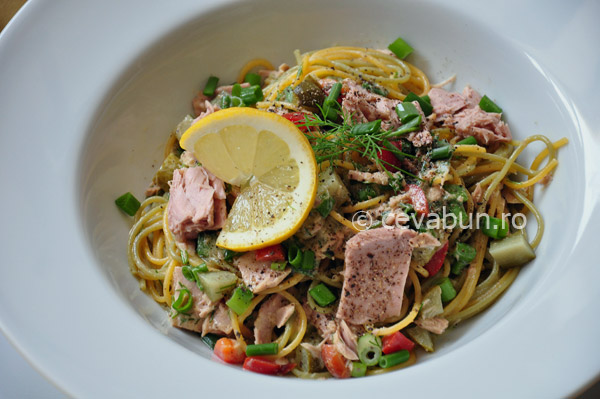 Related Posts :
Friday is a day full of promises. The promise of a great weekend to come, the promise of spending spare time with the loved ones or just the promi ...

During the fasting period, it's quite popular around here to prepare beans salads in a very simple manner - putting together some boiled beans wit ...