One of the most famous desserts of the world, tiramisu is easy to find on restaurant menus even if they sell ethnic food (I was flabbergasted to see tiramisu in a Moroccan restaurant

). It's also that kind of dessert that everyone can be picky about if not done well – this one is too sweet, that one is not sweet enough; that one has no espresso flavor etc etc etc.
Like all simple recipes, tiramisu is no exception –  one has to follow few strict rules in order to get it right.
use espresso not American coffee
use mascarpone cheese (high quality) not other substitutes
use real egg yolks not pasteurized
use a good amaretto (I prefer Amaretto Disaronno for tiramisu)
use all ingredients at room temperature
And, if you want to impress you guests, serve it in cocktail glasses.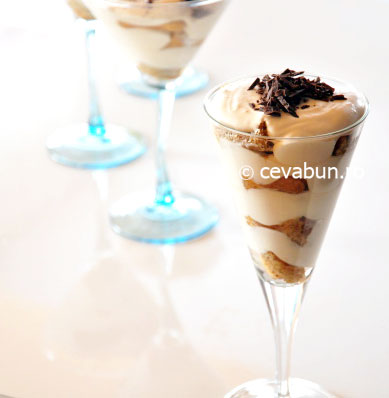 Utensils: espresso machine, mixer, mixing bowl, shallow bowl, 4 cocktail glasses
Serves 4; prep. time 40 minutes
Ingredients:
250 grams

mascarpone cheese

400 grams

whipped cream
3 egg yolks

100 grams

sugar
250 ml espresso
2 shots Amaretto Disaronno
18-20 ladyfingers

50 grams

cocoa powder or chocolate chips
Make fresh espresso. Let it cool. Pour it in a shallow bowl and add 1 shot of amaretto.
In a mixing bowl, beat the egg yolks and sugar until creamy with a mixer. Add in mascarpone and the remaining shot of amaretto and mix at slow speed. Add in the whipped cream and mix with a spatula (at this point stop using the electric mixer).
You can use beaten egg whites instead of whipped cream.
Break lady fingers in two or three (depending on your cocktail glasses). Quickly dip them in the espresso (don't keep them there as they will disintegrate).
You can place the ladyfingers in the cocktail glass and spoon espresso over until they turn dark.
Build a layer of lady fingers followed by one layer of cream and keep going until you reach the top of the cocktail glass. The top layer should be mascarpone cream. Sift cocoa (unsweetened) on top or chocolate chip (this is my version and all time favorite).
Refrigerate at least for 2 hours before serving. Enjoy!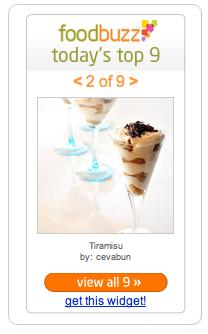 Thank you all for buzzing my recipe!
Related Posts :
It' s too much to call it a recipe; it's just mixing espresso with vanilla ice cream to get an instant energy-booster and one of my favorites afte ...

It's one of the coolest summers I've ever experienced over here. Appart from few torrid days back in July, mornings are delightfully cool and even ...