Sugar craving hits me every day around 3 in the afternoon. I turn into a hunter around the kitchen in the search for something sweet. So, it was one afternoon around 3 o'clock when my husband surprized me with this marvelous feast – a meal-dessert for those loving pasta, and fruit, and ice cream

. I have to say I love all of them and I'm glad they all met in my plate

). Great dessert, rich without being too heavy and fresh.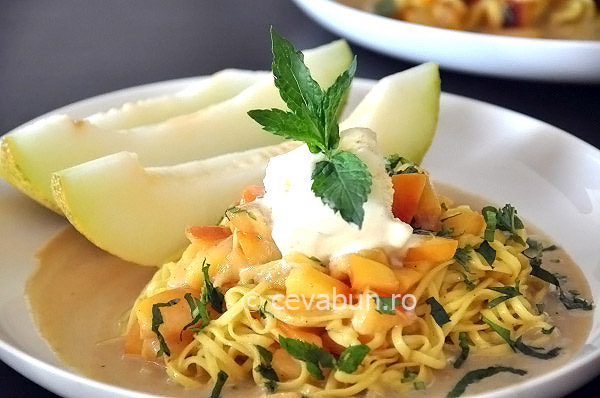 Utensils: pasta boiling pot; colander, sauce pan
Serves 4; prep. time 30 minutes
Ingredients:
300 grams

fresh pasta (tagliatelle or fettucine)

500 grams

vanilla ice cream
6 fresh nectarines or peaches (without kernels; diced)
3 tbsp brown sugar
2 tbsp butter
1 tsp ground cinnamon
2 tbsp chopped mint leaves
2 mellon (sliced) – for serving
Melt butter in a sauce pan. Add nectarines (cubes) and brown sugar. Cook for 2-3 minutes over medium heat until caramelized. Add in cinnamon and half of the ice cream. Cook until the sauce thickens.
Separately, boil the pasta al dente. Drain well and transfer them into the sauce pan. Mix the pasta with the ice cream sauce. Serve with fresh mint leaves and the rest of the ice cream. Serve immediately and add some fresh mellon slices for extra effect.
Enjoy!
Related Posts :
Pasta seems to be the international symbol of an easy-to-cook meal at home. You see it in the movies  - he, prince charming, is cooking pasta to i ...

A fusion way of preparing salmon in Thai manner served with pesto tagliatelle - my husband called it IThailian salmon. A must-try combination of f ...