Because we are leaving again, this time to Thassos (Greece), I wanted to share with you a really tasty Greek recipe – yemistes piperies, meaning stuffed peppers. There are many variations of this recipe, some of them do not use meat, but we chose to use lamb for the stuffing and it was a good choice, trust me.
Serves 4, prep. time 2.5 hours
Utensils:  a tall oven dish (or a pot), a skillet, a bowl
Ingredients:
8 bell peppers

600 grams

minced meat (lamb; or you might use a lamb & veal mixture for a lower cholesterol)
1 cup rice
1 onion, diced
3 cloves of garlic, finely chopped
3 tbsp olive oil
2 tbsp dry oregano
1 tbsp dry mint leaves
1 lemon
1 egg
4 large tomatoes
5 tbsp tomato paste
8 tbsp feta (for serving)
salt & pepper to taste
Prepare the stuffing.
- Wash and rinse the rice. Heat the oil into a skillet. Sauté the onion and garlic. Add the minced meat and saute it for a while, until lightly browned. Add the rice and cook it until it becomes glassy.   Add in the mint leaves, oregano, salt and pepper to taste. Add 2 tbsp tomato paste and stire. Turn off the heat and let the mixture cool. Add an egg and mix well.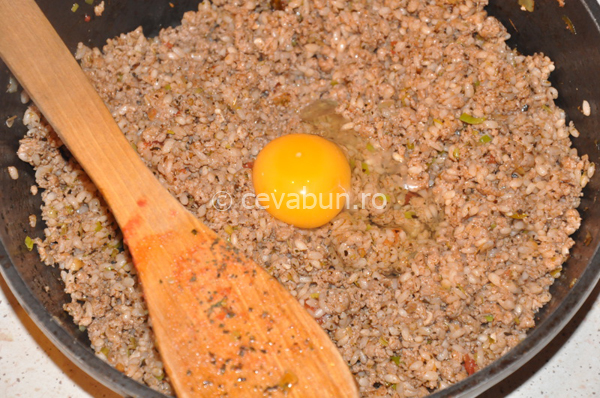 Preheat the oven to 180ºC / 350ºF.
Cut the upper part of the bell peppers (see photo) and remove the seeds from inside; keep the upper parts.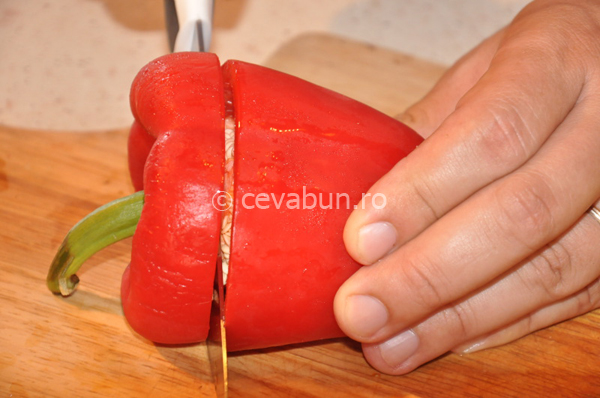 Peel the tomatoes and dice them.
Grease a tall oven dish (or a pot) with some olive oil. Place a layer of diced tomatoes on the bottom.
Stuff the bell peppers with the meat mixture, cover them with the upper parts and arrange them one next to another, cover up.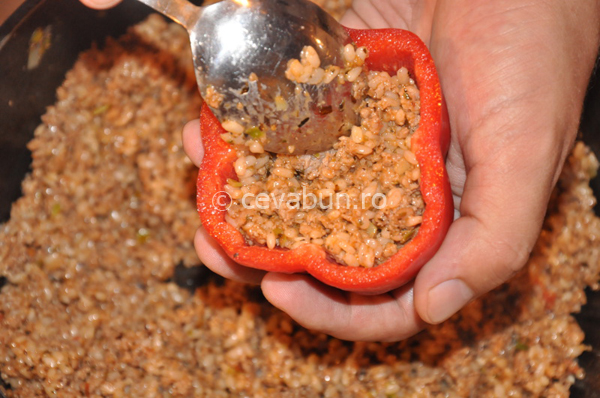 Cut the lemon in slices, lengthwise, and insert slices between the peppers.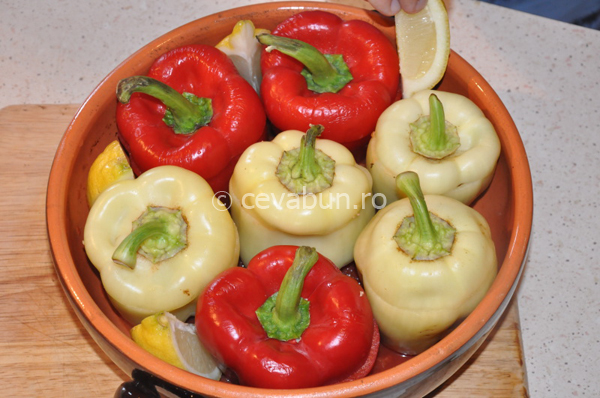 In a bowl, mix the rest of the tomato paste with water and pour the liquid between peppers.
Juices should not reach the upper top of the oven dish because during the cooking process will overflow.
Cover the oven dish and put it in the preheated oven for 90 minutes. During the final 15 minutes, lift the lid in order to allow peppers to brown slightly.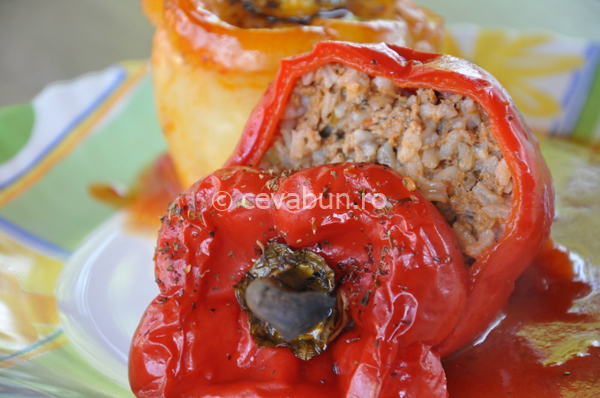 Greek-style stuffed peppers should be served warm with crumbled feta on top. Enjoy!
Related Posts :
It was called "the wild mushroom par excellence" (by the Italian chef Antonio Carluccio) and it's one of the most appreciated edible mushrooms in ...

After our adventure with the Uzbek plov, we have continued to cook rice in all kinds and forms: pilaf, risotto and now... biryani. It's a complete ...