Oxtail stews and soups have a long history all over Europe dating back to the Roman Empire and they go beyond this continent. One might stumble upon oxtail stews in China and other parts of the world, cooked in so many various manners. As slow food is back on track, any oxtail stew is a perfect candidate for a long cooking dinner.
We decided to cook oxtail in the Spanish manner, the one that we find the most delicious and daring. Rabo de toro (literally "tail of the bull" in Spanish) is the name of an Andalusian medieval dish born in XVI century Cordoba where it was cooked with tails of corrida slaughtered bulls. They are variations in ingredients, some versions include chocolate and Porto, but we chose a more classical approach. It takes time to cook this rich stew, simmering at low heat with plenty of vegetables, wine and spices in order to get a soft meat and a velvety sauce.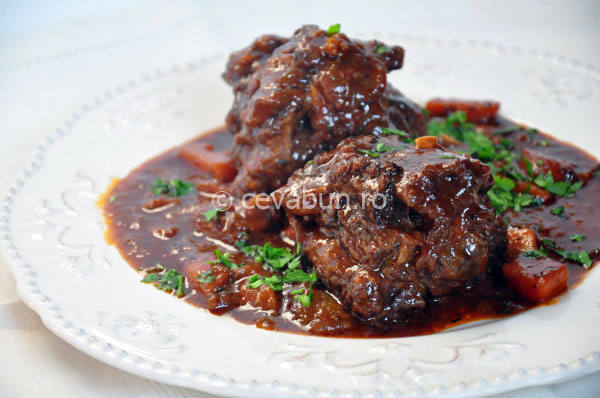 Utensils: a large stewing pot, tongs
Serves 4, prep. time 4 hours
Ingredients:
1.5 kg

oxtails
4 carrots, large dice
half celery root, large dice
2 onions diced
5 garlic cloves, diced
6 tbsp olive oil
3 bay leaves
4 tomatoes, peeled and diced (or canned tomatoes)

1 liter

beef stock
500 ml dry red win
6 tbsp balsamic vinegar (traditionally, Jerez wine vinegar)
1 tbsp sugar
1 tbsp dry thyme
salt and pepper
Brown the oxtails on all sides in olive oil in a stewing pot.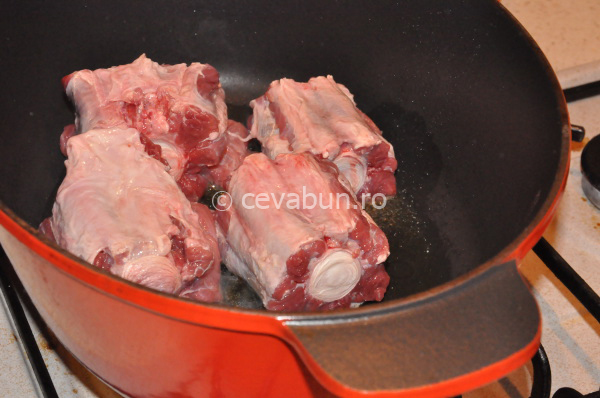 Transfer the oxtails onto a plate.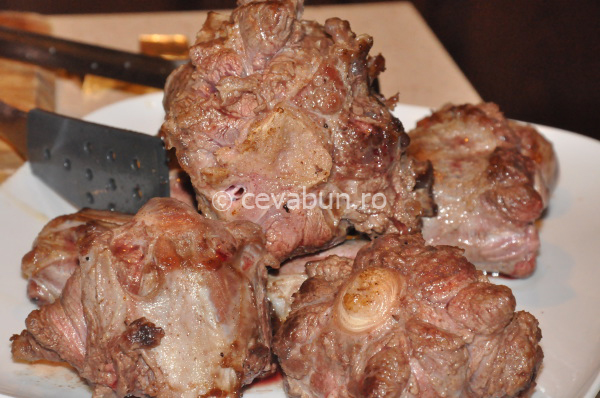 Add the onion and sweat for 2-3 minutes, than add the garlic, carrots and celery.
Add tomatoes, wine and beef stock, sugar and vinegar. Bring to a boil, then add the browned oxtails, bay leaves, thyme. Lower the heat and simmer for 3 1/2 hours, stirring occasionally and adding water as required. This is the part where you might want to add more wine for a richer flavor; the important thing is to check the stew constantly and keep the liquid level slightly above the oxtails in order to allow them to cook thoroughly. Remember to add water from time to time as required; otherwise the stew will be too rich.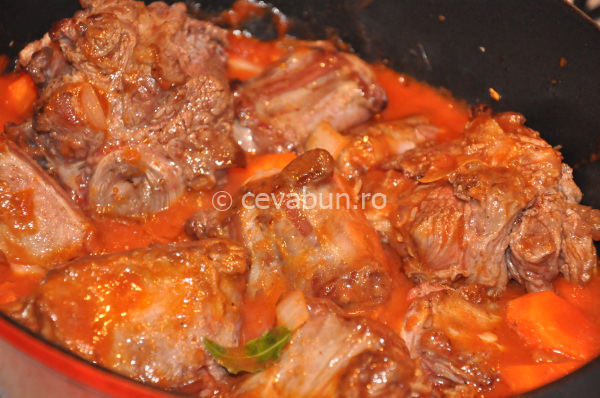 Check the meat to see if it is well cooked.
Serve hot with potatoes (boiled or mash potatoes).
Related Posts :
This dessert was one of my favorite sweets when I was a child. My mom used to prepare it with the remaining strawberries and the egg whites that w ...

Traditionally cooked with beef, this rich stew has a certain charm when cooked with venison and served on a chilly evening. Slow food staple, beef ...