When we have prepared this recipe for our online culinary magazine, we stared at the scallops first. It's a ritual, really. They are so beautiful and delicate and they taste heavenly! Like many other seafood, scallops do not need intense cooking as you don't want to turn them into rubber. This is a simple, yet lovely appetizer to be served at parties if budget allows

.
If the explanations below are not clear enough, watch the movie at the bottom of the page (the subtitle is in Romanian only, but if you need help, let me know).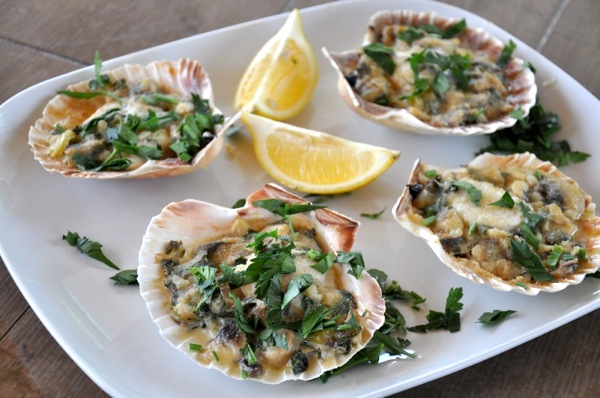 Utensils: a saucepan, a baking tray, a pair of tongs, a wide serving dish
Serves 2, prep. time 30 minutes
Ingredients:
4 scallops (with half of the shell)
1 small onion or shallot
4 white mushrooms

70 grams

butter
1 tbsp fresh parsley, chopped
50 ml white wine
50 ml cream
4 tsp bread crumbs
lemon juice
sea salt and white pepper
1 lemon for serving
Preheat the oven to 150º C (300º F). Slice the onion and the mushrooms.
Wash gently the scallops under cold water and let aside.
Melt 50 grams of butter over medium heat in the sauce pan. Saute mildly the onion and mushrooms. Add the wine and the cream and simmer until the sauce thickens a little. Add chopped fresh parsley, lemon juice, salt and ground white pepper. Stir for a minute and remove from heat.
Place the scallops into a baking tray. Divide the sauteed mushrooms into 4 equal parts. Add on top of each scallop sauteed mushrooms. Powder each scallop with bread crumbs and place a cube of butter on top.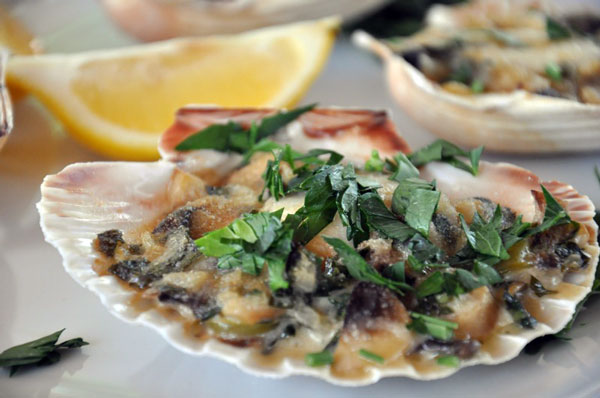 Place the baking tray into the oven for 10 minutes.
Serve immediately with lemon and toast.  Enjoy!
Related Posts :
This one is one of the most refined Thai curry, a red curry with duck and grapes (Gaeng phed ped yang, in Thai). Its unique flavors go from hot to ...

There are various rice dishes with meat and/or vegetables that are cooked especially for celebration moments (weddings, funerals etc) in many part ...