Yes, I know, fish again

. I told you that my New Year's resolution was to eat more fish. I keep coming back to salmon fillet cause it reminds me so well of real meat

– don't judge. After trying this amazing salmon with red wine, I decided to cook salmon fillets with thyme and capers. It's worth serving it for dinner (for those weight cautious, just replace potatoes with a healthier vegetable).
Serves 4, prep. time 1 hour
Utensils: a pot, a frying pan, a baking tray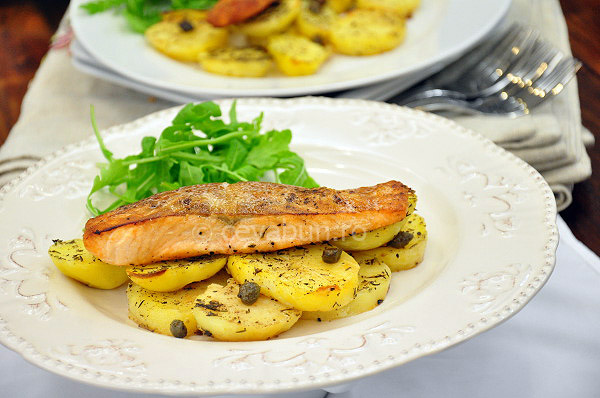 Ingredients:
4 salmon fillets (approximately

150 grams

each)

1 kg

potatoes
3 tbsp chopped fresh thyme
2 tbsp capers
4 tbsp olive oil
salt & pepper
Scrub the potatoes clean and put them in a large pot to boil. Add some salt into the water. Boil them  for about 30 minutes. They should be boiled, but firm.
Preheat the oven to 180º C / 350º F.
Remove the potatoes into another pot filled with iced water. Allow them to cool, then peel them and cut them into thick slices.
Wash the capers (remove the salt) and drain them.
Heat 2 tbsp of oil in a frying pan and fry the salmon 1 minute on each side. Salmon should be browned but not entirely cooked.
In a baking tray, spray some olive oil and place the potatoes slices. Sprinkle the thyme, add capers and 2 tbsp olive oil. Place the salmon over the potatoes and add the juices from the frying pan.
Place the tray into the oven and cook for 8 up to 12 minutes until salmon and potatoes are done.
Serve immediately with green salad or arugula.  Enjoy!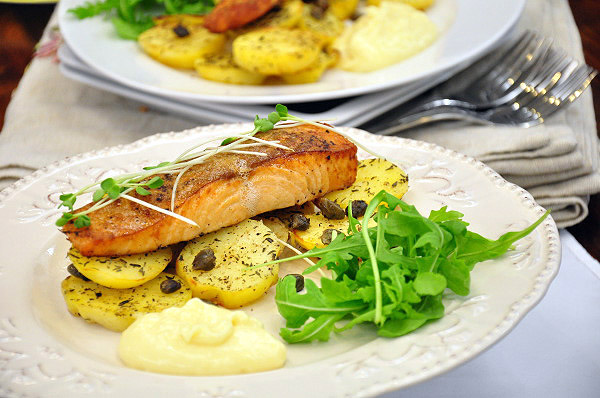 Related Posts :
My previous experiences with diet food led to giving up all diets forever :). Diet recipes were completely tasteless and made me miserable. All I ...

A fusion way of preparing salmon in Thai manner served with pesto tagliatelle - my husband called it IThailian salmon. A must-try combination of f ...