Whenever I try out a new restaurant I grade it by its fish soup (where I can find one on the menu). I am really picky when it comes to fish soups, although I like them all: bouillabaisse, Ostende fish soup, Cullen Skink, the Hungarian and the Romanian fisherman's soups, the Greek psarosoupa, miso soup. The recipe below is a simple, yet tasty and special fish soup with northern accents – a salmon and shrimp soup.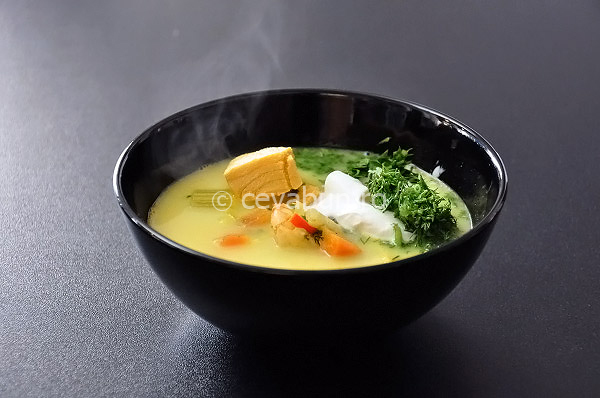 Utensils: a medium pot
Serves 6-8; prep. time 60 minutes
Ingredients:
600 grams

salmon fillets, large cubes

600 grams

shrimps (steamed & peeled)

4 liters

fish stock

0.4 liters

cream
2 potatoes, peeled and diced
3 carrots, peeled and coarsely diced
3 celery stocks, diced
1 onion, finely chopped
4 tbsp olive oil
5 cloves of garlic, finely chopped
1 tsp curry powder
2 bay leaves
3 tbsp chopped parsley & 3 tbsp chopped dill (for serving)
juice from 2 lemons
salt & pepper
Heat up the olive oil in a pot. Add and saute onion, garlic and potatoes for 30 seconds. Add curry powder, bay leaves and fish stock and let it simmer for about 20 minutes.
Add in carrots and celery. Potatoes should be finely diced as they are used in this soup as a thickening agent.
Simmer for another 20 minutes and add the cream.  Bring the soup to a boil and add the salmon cubes.
Simmer for 10 minutes until fish rises up. Add the shrimps, bring to a boil and turn off the heat.
Now, here I put the soup in serving bowls and let the guests add salt & pepper to taste, but also lemon juice and parsley and/or dill. Personally, I add only a pinch of salt and I use extra lemon juice to add flavor. And I choose dill, of course

.
Enjoy!
Related Posts :
Snow again over here, lots of it; and I am almost in a Christmas mood. Or maybe it's just the cold outside, who knows... What made my evening brig ...

Enjoy a light dinner with this spectacular cream soup - broccoli with a splash of lime and topped with spicy shrimps. Serves 4, prep. time 40 m ...