I've been busy. Celebrating my son's birthday, my husbands' and my own. Busy anniversary season over here and lots of parties. Appart from all those delicious cakes (the recipes will follow soon), I wanted to share with you a really impressive recipe that is quite popular in Romania in the cold season – roast duck with sour cabbage.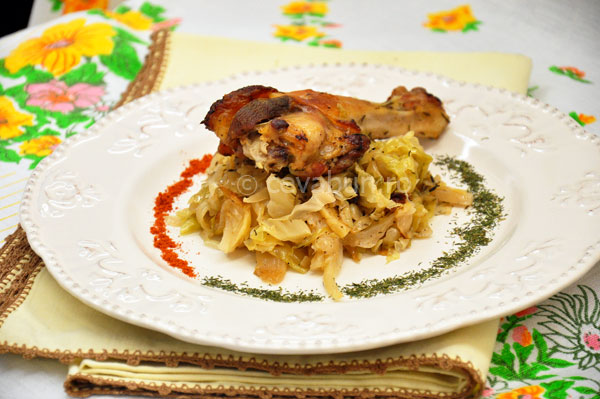 Serves 2, prep. time 1 hour
Utensils: a skillet
Ingredients:
400-

500 grams

duck (portioned)
1 small sour cabbage, finely sliced
1 onion, finely sliced
1 dry red hot pepper
1 tsp dry thyme
2 bay leaves
half tsp allspice
2 tbsp cooking oil
freshly ground black pepper
Preheat the oven to 190ºC / 370ºF.
Heat the oil in a skillet. Add the duck and fry until slightly browned on all sides.
I like to get some duck fat during this process that I use later on other dishes, so I use a sharp knife to make some incisions in the skin.
Remove the duck onto a plate. Add the onion and sauté it for a couple of minutes. Add cabbage, bay leaves, thyme, allspice, hot pepper and some freshly ground black pepper. Pour over 1 cup of warm water and turn the heat off. Place duck in the skillet, cover it and put it in the preheated oven. Roast for 40 minutes until both duck and cabbage are tender.
Serve hot with polenta. Enjoy!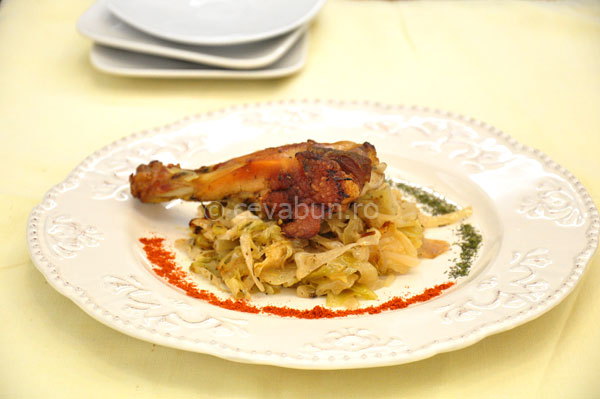 Because the sour cabbage we use over here is usually salty enough, I don't use salt when making this dish.
Related Posts :
This is not just a dish, it's a feast! Ingredients: 3 pork knuckles 1 onion, cut in big chuncks 2 liters pickled cabbage juice 1 ...

This one is one of the most refined Thai curry, a red curry with duck and grapes (Gaeng phed ped yang, in Thai). Its unique flavors go from hot to ...