It was called "the wild mushroom par excellence" (by the Italian chef Antonio Carluccio) and it's one of the most appreciated edible mushrooms in European cuisines. It's Boletus edulis / porcini (Italy) / penny bun (UK) / cèpe (France) and it is Europe's second most sought-after mushroom after truffles. Wait, there's more : it has lots of proteins, vitamins, minerals and fibers. The only not-so-good news is that it's not available fresh unless you live in Europe and only during autumn. But, do not worry, it's not the end of the world. It keeps its flavours if properly dried and thanks to the newly globalized commercial system you can find dried boletus almost anywhere in the world.
As today I celebrate my name day (St Mary's Day over here), allow me to feast you (or your eyes, at least

) with these superb porcini stuffed peppers. Enjoy!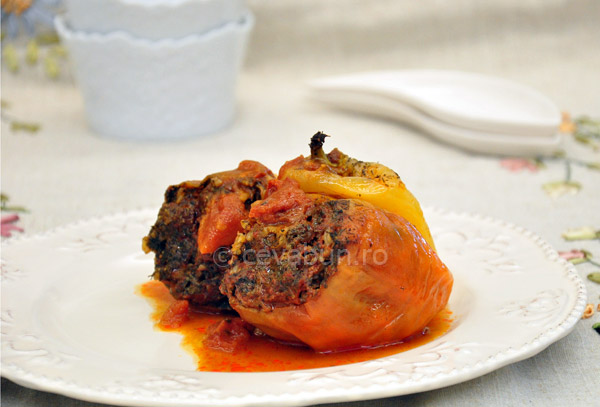 Serves 5, prep. time 2 hours
Utensils: a skillet, a sharp short-bladed knife
Ingredients:
10 bell peppers

400 grams

funghi porcini, diced

300 grams

rice
1 onion, chopped
4 garlic cloves, finely minced
2 tbsp chopped dill
4 tbsp tomato paste
1 egg (you can skip the egg if you are fasting)
2 bay leaves
3 tomatoes, peeled and diced
5 tbsp cooking oil
1 tsp sugar
salt & pepper
Rinse the rice in plenty of water. Drain well.
Heat 3 tbsp of cooking oil into a skillet. Saute the mushrooms until all juices evaporate. Add onion and garlic and cook for another minute.  Add the rice and stir until glassy. Sprinkle the chopped dill, salt & pepper to taste. Turn off the heat. Add 2 tbsp tomato paste, slightly diluted with few teaspoons of water, stir well and allow to cool. After cooling, add the egg and stir well.
Cut the upper part of the bell peppers and remove the seeds from inside; keep the upper parts.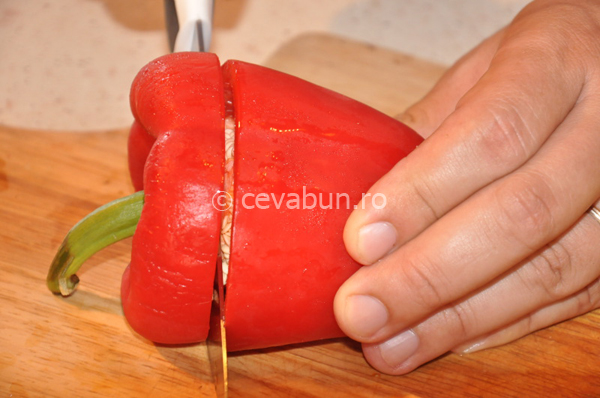 Preheat the oven to 180ºC / 350ºF.
Stuff the bell peppers with the porcini mixture (up to two thirds; the rice will increase in volume) and cover them with the upper parts (it helps to keep the mixture inside).
Arrange the stuffed peppers into a skillet, one next to each other. If there are too many spaces in between, you can place some more peppers (even if they are not stuffed).
Mix diced tomatoes with the remaining tomato paste and 2 cups of water. Pour the juice over the peppers, add the bay leaves and cover the skillet.
You can use a cup of water mixed with a cup of dry white wine for extra flavor.
Bake for 70 minutes and serve.
If the bell peppers are thick, some additional cooking time might be necessary – up to 90 minutes.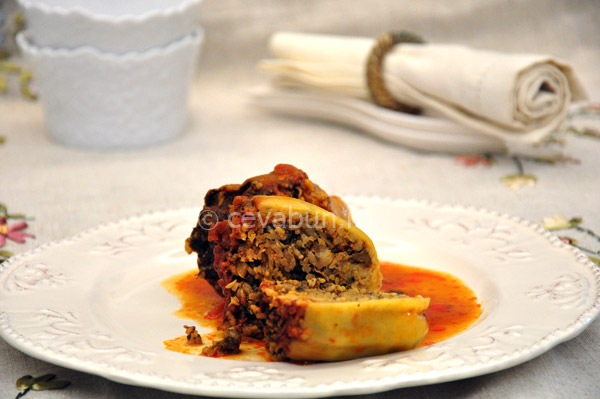 Related Posts :
Because we are leaving again, this time to Thassos (Greece), I wanted to share with you a really tasty Greek recipe - yemistes piperies, meaning s ...

I might have been away for too long... Foodbuzz (as I knew it) is gone, some of the food blogs I used to read are no longer available... Where is ...