Whenever I have to prepare a dinner for more than 6 people, I start cheating

. I want to spend the time wisely in the kitchen and I don't want to be late with dinner and stuck there for another hour after guests arrived. Therefore, choosing the right courses is crucial; I want something elaborate but to be able to cook it in one batch or two. One of my winning main courses is Pollo alla Parmigiana (Chicken Parmesan) and guest are licking their fingers

.
Serves 4, prep. time 90 minutes
Utensils: meat pounder, saucepan, baking tray, plastic wrap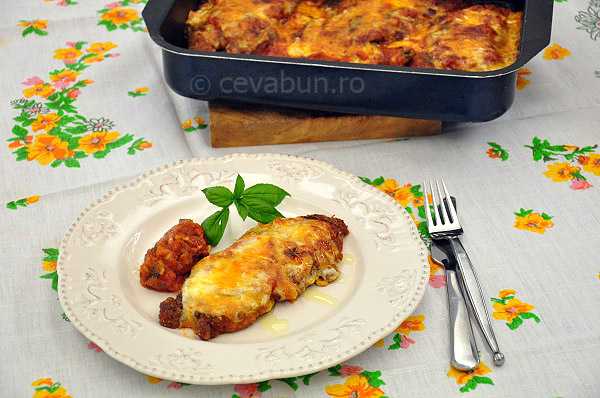 Ingredients:
4 boneless chicken breasts (no skin), pounded

150 grams

mozzarella (sliced or grated)
3  tbsp grated parmesan
4 tbsp bread crumbs
2 tbsp flour
1 egg
1 tsp dry sage
1 tsp dry oregano
cooking oil for frying
for the sauce
4 tbsp olive oil
1 onion, chopped or coarsely grated
4 garlic cloves, minced
3  tbsp tomato paste linguri
6 tomatoes, peeled, seeded and chopped
10 basil leaves, chopped
1 tbsp sugar
salt & pepper
Start by preparing the sauce. Heat olive oil in a large saucepan over medium heat. Add onions and garlic. Sauté  for about 1 minute or 2.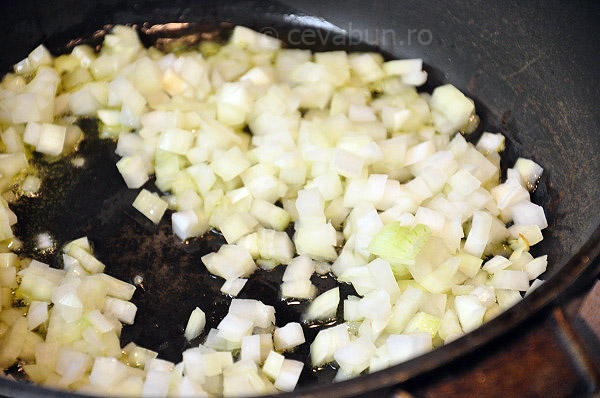 Add tomato paste and brown it a little bit, then add the tomatoes and 2 cups of water.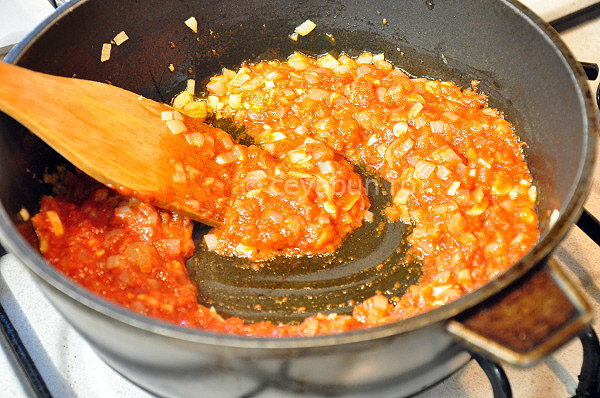 Stir in salt, sugar and let the sauce simmer for half an hour. Add pepper to taste, basil leaves and turn off the heat.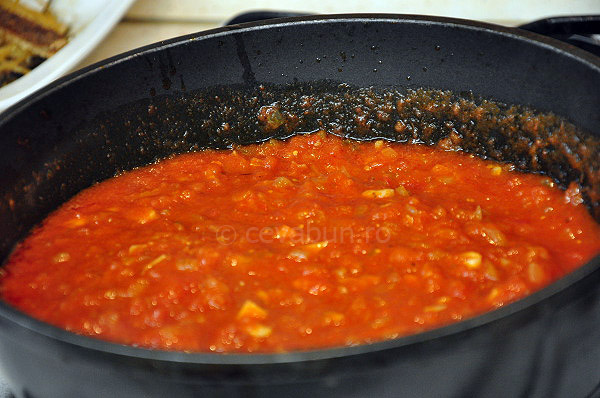 While the sauce simmers, preheat the oven to 220ºC / 400ºF. Cover the chicken breasts with plastic wrap and pound them to even thickness (not more than 1 finger thick).  Salt & pepper the chicken pieces.
Prepare 3 separate plates:
- the first plate: mix the flour with little salt
- the second plate/bowl: whisk the egg
- the third plate: mix the bread crumbs with parmesan, dry sage, dry oregano, salt and pepper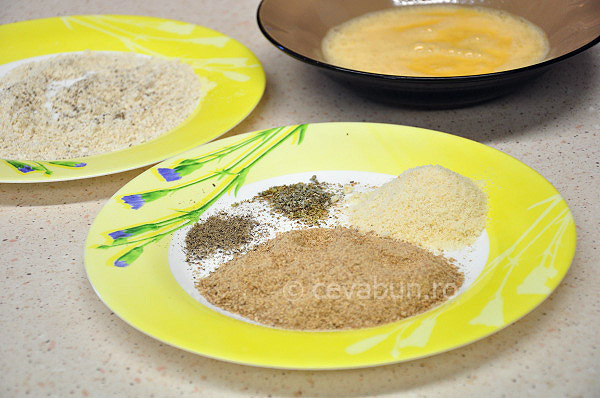 Heat the oil in a skillet over medium heat. Coat the chicken breasts, piece by piece, with flower (shake them well to remove the extra flour). Dip the chicken breast in the egg and then coat them with the flavoured bread crumbs.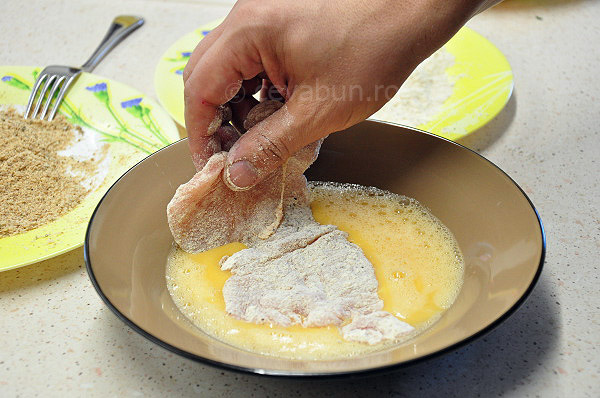 Place the chicken into the skillet and fry them until golden brown (over low heat so they will cook nicely).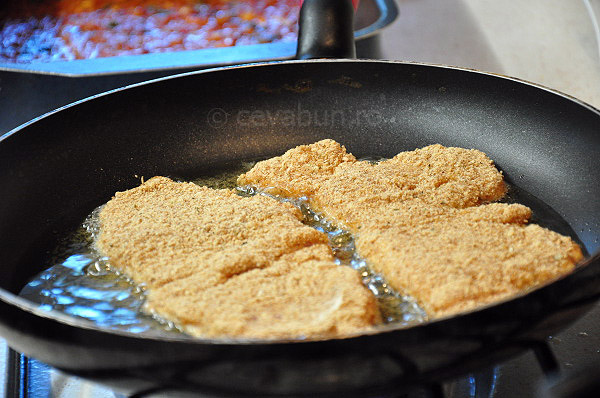 Transfer the tomato sauce into a baking tray and spread it. Keep 4 tbsp of sauce.
Place the browned chicken breasts in the baking tray and arrange them side by side. Pour one tbsp of sauce on top of each chicken piece. Top with grated mozzarella (a handful on each piece).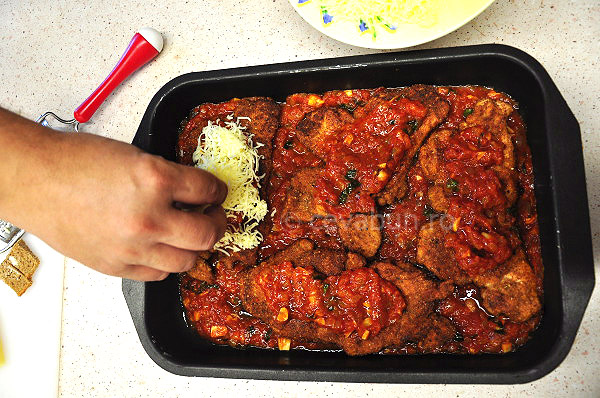 Bake in the oven for 10 minutes until mozzarella starts browning.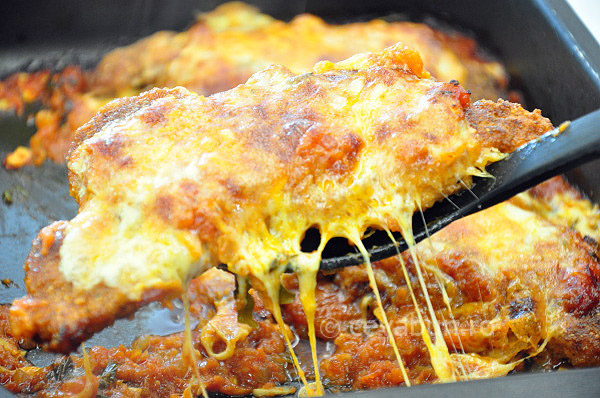 Serve with pasta, rice or potatoes. Enjoy!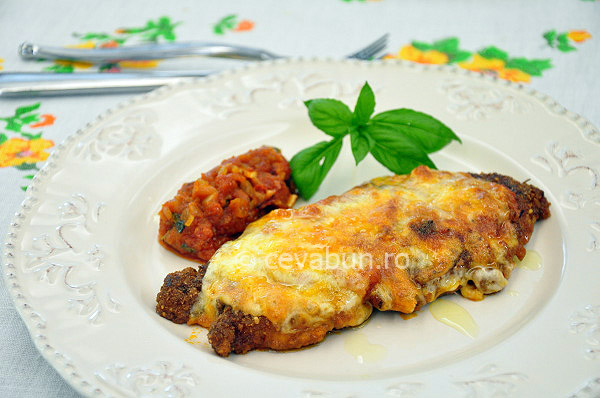 Related Posts :
A simple and efficient way to use the chicken legs after preparing a hearty chicken stock, served with a perfect side dish inspired by the fascina ...

Scallopine, escalope, schnitzel or scallop. I must confess that I was quite confused the first time I saw veal scallop on a menu wondering what a ...