Each year on the 1st of September, I start looking for signs of autumn. I love autumn or at least the idea of it. Nice temperatures, exquisite sunsets, fallen leaves are the best premises for long meditative walks as one can see in the movies. No signs of autumn here yet – temperatures are still 30°Celsius, days are still sunny and, technically, it's still summer. But this plum tart is my own autumn sign…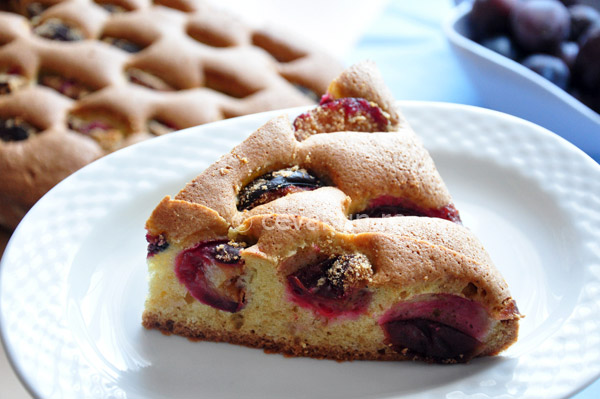 Serves 8, prep. time 80 minutes
Ingredients:
24 red plums, pitted and sliced in halves

350 grams

all purpose flour
350 ml sunflower oil
300 grame powdered sugar
5 eggs
1 tbsp grated lemon zest
1 tbsp vanilla essence
2-3 tbsp bread crumbs
1 tbsp grated cinnamon
1 tsp baking powder
a pinch of salt
Preheat the oven to 175ºC / 350ºF.
Place the plums on a plate and powder them with 2 tablespoons of sugar and 1 tablespoon of cinnamon.
Oil a baking tray and powder it with a little bit of flour.
Place the flower in a deep bowl and mix it with baking powder.
Mix eggs and sunflower oil in a blender. Add in sugar, cinnamon, salt and lemon zest and keep mixing for 1-2 minutes. Pour the mix in a bowl and start incorporating the flower whisking lightly.
Transfer the batter into the baking tray and level it.
Powder the plums with bread crumbs and place them diagonally on the surface of the batter. You can slightly push them in but not entirely.
Bake for 40-45 minutes until well done.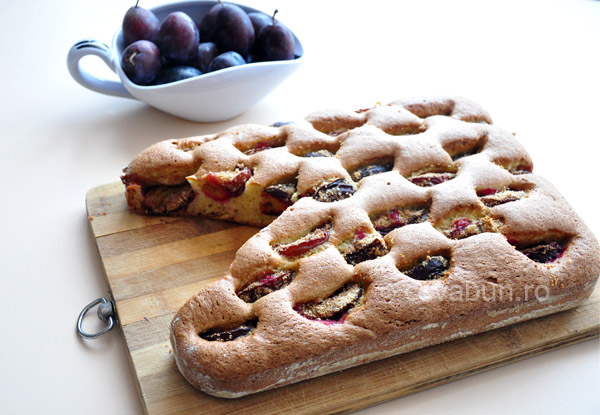 Serve with freshly whipped cream.
Related Posts :
Reminiscence of the former Austrian-Hungarian Empire, plum dumplings can be encountered in most of  East European countries. A juice plum core sur ...

Whenever I have to prepare a dinner for more than 6 people, I start cheating :). I want to spend the time wisely in the kitchen and I don't want t ...