It's Sunday so we are in the mood for a fresh dessert to celebrate this spectacular weather; summer is finally here. And what could be the perfect way to celebrate if not this light panna cotta with a fresh strawberry purée?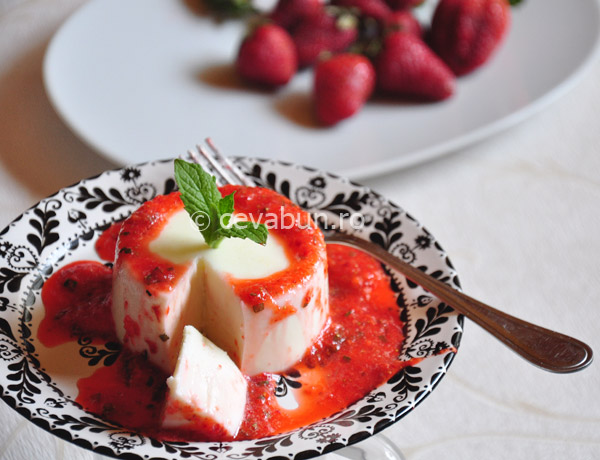 Utensils: blender, sauce pan, sieve, ramekins (or any other forms)
Serves 8; prep. time 30 minutes (+2 hours for refrigerating)
Ingredients:
1 liter

heavy cream
500 ml milk (3.5% fat)
lemon zest from one lemon
12 tbsp sugar

25 grams

powdered gelatin
a pinch of salt
strawberry purée
600 grams

fresh strawberries
2 tbsp mint leaves, finely chopped
lemon juice (half of lemon)
powdered sugar to taste
Heat the heavy cream, milk, sugar, salt and lemon zest in a sauce pan. Let them reach the boiling point and turn off the heat after 1 minute.
Add the powdered gelatin and stir well until well dissolved.  Let it rest for 15 minutes.
Prepare 8 ramekins or any forms you wish and spray some oil on the interior (very little, just to allow panna cotta to unmold easily).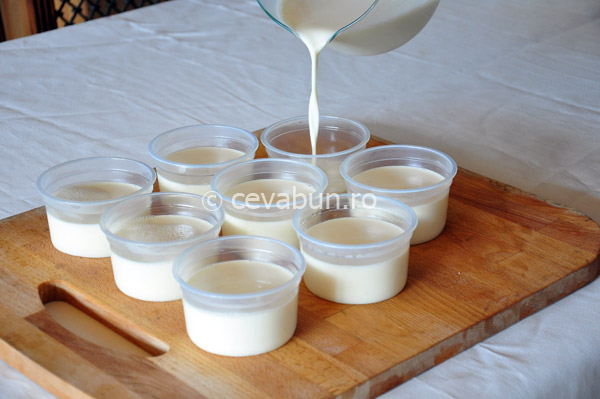 Pour the mixture evenly into the 8 ramekins through a sieve.
Refrigerate at least 2 hours before serving.
Prepare the purée. Mix in a blender the strawberries, sugar to taste and the juice from half a lemon. Add in the finely chopped mint leaves and refrigerate for 1 hour before serving.
Serving: unmold the panna cotta onto plates and serve with strawberry purée.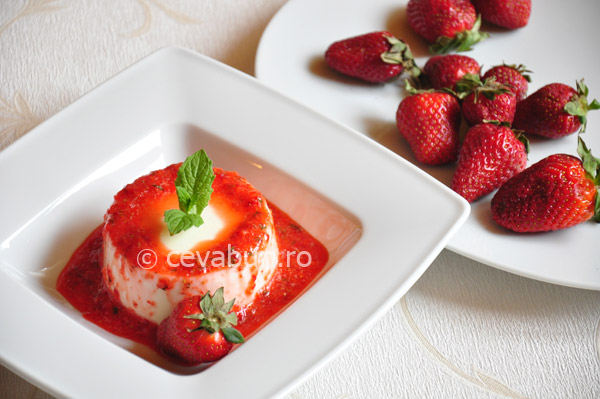 To easily unmold the panna cotta, warm the edges of the forms with your palms; the oil will help unmold easily. If you don't use oil, use a sharp knife and run it around the edges.
If you want to skip the unmold part due to lack of time, you can pour the mixture into cocktail glasses and serve the panna cotta straight from them.
Related Posts :
This dessert was one of my favorite sweets when I was a child. My mom used to prepare it with the remaining strawberries and the egg whites that w ...

Well, it's snowing a lot over here since mid January and it doesn't seem to stop. With so much snow around, traffic is just one of those things I' ...