Well, it's snowing a lot over here since mid January and it doesn't seem to stop. With so much snow around, traffic is just one of those things I'm avoiding

. Cooking, on the other hand, seems the perfect past time for me and my family, especially during weekends when preparing a three course meal for us and our friends.
The lemon cream below is a great dessert, especially after spicy food. It's one of those "miracle dessert recipes" with a handful of ingredients and only 15 minutes needed, and voila – a great dessert to impress your guests.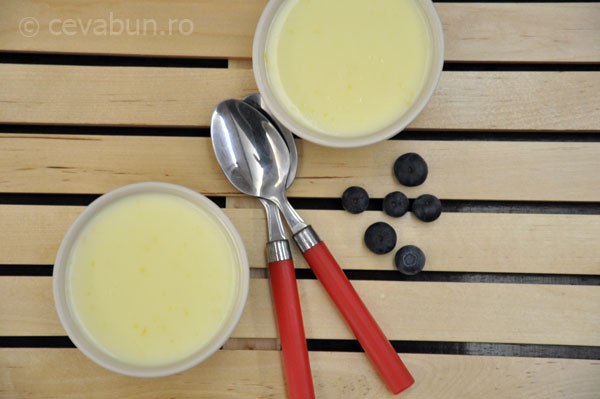 Serves 3, prep. time 15 minutes (+ min. 3 hours refrigerating time)
Ingredients:
300 ml heavy cream
2 lemons

80 grams

sugar
1 pinch of salt
Wash the lemons and grate the zest.
Squeeze well all the lemon juice in a cup. Remove seeds, if any.
Bring to a boil in a saucepan the heavy cream, lemon zest, sugar and a pinch of salt. Simmer for 4-5 minutes, stirring with a wooden / rubber spatula.
Remove from heat and strain the cream through a fine sieve (to remove the lemon zest) into a big bowl.
Start adding the lemon juice, little by little, while stirring continuously. The lemon cream will thicken. Taste it to see if you need to add the whole quantity of lemon juice (depending on the size and flavour of the lemons, you might add only half of the quantity or so).
Pour the lemon cream into 3 ramekins or cups and refrigerate for 3 hours (minimum) or overnight.
Serve with almond biscuits or berries.  Enjoy!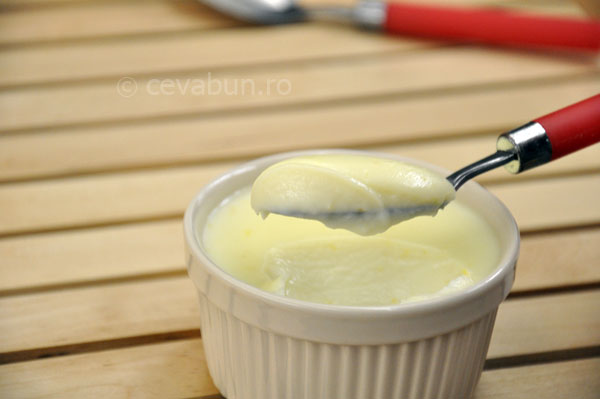 Related Posts :
It's Sunday so we are in the mood for a fresh dessert to celebrate this spectacular weather; summer is finally here. And what could be the perfect ...

Don't blame me for posting these spring or summer recipes, but it's snowing outside and I need to do something to prevent a break-down. Or at leas ...