I might have been away for too long… Foodbuzz (as I knew it) is gone, some of the food blogs I used to read are no longer available… Where is everyone? Anyway, in search of the foodies and the community that was so great at sharing recipes and other good stuff,  I almost forgot about the 42°C (107.6°F) outside. It's scorching hot and grilling might not seem the right choice, however this salad is worth making, believe me.
So, pick up fresh vegetables from the market: tomatoes, zucchini, egg plants, red peppers, onions, mushrooms.  And start grilling

Serves 2-4, prep. time 1 hour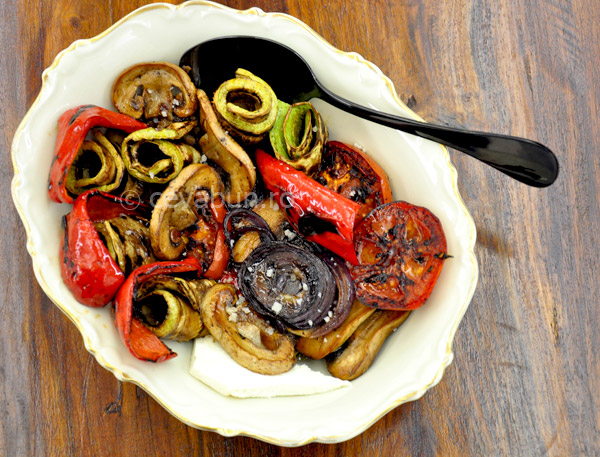 Ingredients:
4 red peppers
2 small to medium egg plants
2 small zucchini
6 large mushrooms
3 red onions
3 firm tomatoes
6-8 tbsp extra virgin olive oil
3-4 tbsp balsamic vinegar
salt & pepper
Bear in mind that most of the ingredients will decrease in volume once grilled, so make sure that you grill enough for all

.
Start by washing the vegetables. Peel the onion. Cut everything in 1 cm slices. Drizzle some olive oil on the vegetables and add some salt and pepper (not too much). Grill the vegetables on both sides – make sure that they remain moist inside, don't overcook them. Take extra care while flipping the tomato slices as they are fragile. Arrange them on a serving plate and do not mix or stir afterwards. Drizzle with olive oil and balsamic vinegar. Add salt and pepper to taste and let to infuse for 30 minutes.
Serve at room temperature with feta cheese or as side dish to grilled meat or fish.
Related Posts :
Having an outdoor electric griddle is quite useful. Griddle me something, baby! a quick breakfast with eggs, a fried rice with vegetables, some fr ...

It's time for another Romanian specialty - mashed eggplant salad (salata de vinete). A vivid memory in my nose, the smell of grilled aubergines is ...