This one is one of the most refined Thai curry, a red curry with duck and grapes (Gaeng phed ped yang, in Thai). Its unique flavors go from hot to sweet&sour, with a hint of fruit sweetness and delicate texture. It's Thailand in a bowl, beautifully styled and presented, just as those gorgeous women and extraordinary beaches one witnesses when traveling to that heaven on earth.
We cooked this beauty in a luxury restaurant in Phuket, helped by a super chef. An unforgettable experience that left us with nice memories, bunch of recipes and a movie (the explanations are in Romanian; let me know if you need the translation).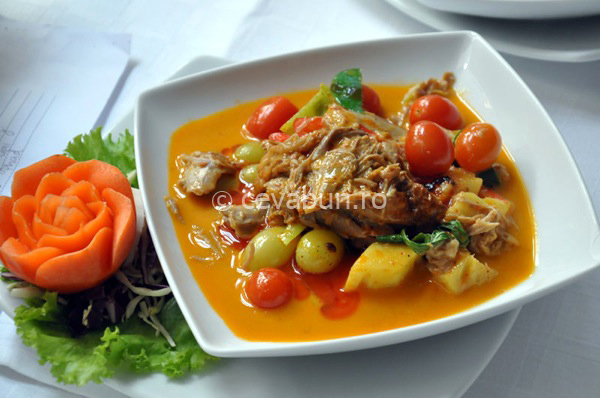 Serves 1, prep. time 15 minutes
Utensils: a wok and a wok ladle (hoak); replace the wok with a skillet if you don't have one
Ingredients:
150 grams

duck breast slices (boiled or roasted)
2 tbsp red curry paste
2 tbsp cooking oil
1 cup coconut milk
1/2 cup chicken stock
2 tbsp fish sauce
1 tbsp brown sugar
2 tbsp lime juice (freshly squeezed)
1 tbsp Thai basil leaves
1 tbsp kaffir lime leaves
5 cherry tomatoes
2 tbsp pineapple (cut in cubes)
10 white grapes
1 hot pepper, sliced
freshly ground black pepper
Heat the oil in a wok. Add the curry paste and fry it while stirring. Add the coconut milk (not all at once) and keep stirring. Add the chicken stock and keep up the heat.
Add the duck meat and cook for about 6 to 8 minutes. Add the pineapple, grapes and tomatoes and stir. Add the basil and kaffir leaves. Cook for about 2 minutes. Season with fish sauce, lime juice, sugar and pepper. Turn off the heat and let it rest.
Serve hot with rice. Enjoy!
Related Posts :
When we have prepared this recipe for our online culinary magazine, we stared at the scallops first. It's a ritual, really. They are so beautiful ...

There are various rice dishes with meat and/or vegetables that are cooked especially for celebration moments (weddings, funerals etc) in many part ...