They are popular in many parts of the world, but in Romania deviled eggs are mandatory appetizers. For Christmas and Easter. And weddings. And birthday parties. And regular Sundays. They might be used as a grading systems for any household and any cook though recipes over here are pretty standardized: boiled egg yolks, mustard, mayonnaise and liver pate.
In Romanian they are called  oua umplute (stuffed eggs).
We turned them upside-down and put some heads on to make them appealing to some of our younger guests. Total success! Except for deciding if they were ducks or swans…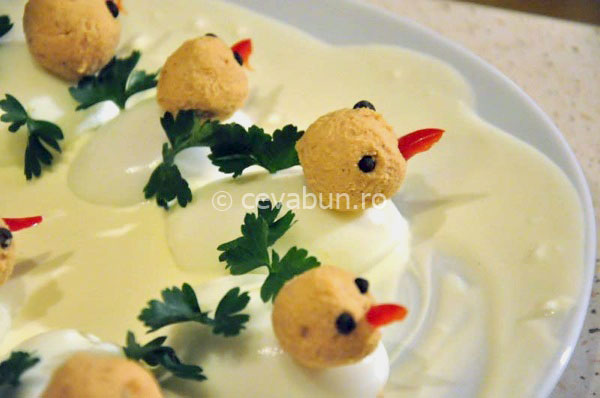 Yields 10 deviled eggs; prep. time 20 minutes
Ingredients:
5 hard boiled eggs, cooled and peeled
3 tbsp yoghurt or sour cream
1 tbsp mayonnaise

30 grams

butter
1 small onion, chopped

100 grams

liver pate
salt & pepper
for decor – black peppercorn, a red bell pepper or a carrot, some fresh parsley, toothpicks
Melt butter in a frying pan and saute the onion without browning it.
Slice the eggs in halves, lengthwise. Remove the yolks and transfer them into a bowl. Place the "shells" onto a plate.
Mash boiled egg yolks and combine with liver pate and sauteed onion. Mix until you get a smooth paste. Salt and pepper to taste.
Fill the egg "shells" with the above paste. Refrigerate the remaining paste for 20 minutes.
Combine sour cream and mayonnaise and spread onto a plate. This is the "lake".
Place the stuffed eggs upside down onto the "lake". Wet your hands and form round shapes using the chilled filling – these are the "heads".
Now, the trickiest part is to assembly the eggs. Break 5 toothpicks in two. Stick each toothpick into one end of the eggs (leave half of it out). Thrust the "head" into the toothpick, carefully so the head won't fall off.
Decorate the "heads" with black pepper for eyes and red bell pepper or carrot for beak. Additionally, you could add "wings" from parsley leaves. Just use a toothpick to fix them onto the eggs.
Related Posts :
We have discovered a new supplier close to our home for farm eggs. I like so much that bright yellow egg yolks, a natural coloring for baked cakes ...

It's quite a famous dessert that has nothing to do with salami :). A traditional Portuguese and Italian dessert this "salami" is made from dark ch ...