A couple of days ago, I went to a farmers' market to buy some chicken meat. One stand was selling poussins, two pieces per package. Grain fed, 450 gr each, beautiful poussins, excellent for roasting. And I was just standing there, staring while the seller kept asking me how many I want. Do you know why? Because I felt like being sent back to those communist days when there was so little food and such long queues to get it. I remember queueing with my mom for more than 4 hours one day just to buy two small chickens, carelessly packed in a plastic bag, together with some frozen tomatoes (up to this day I hate the smell of frozen tomatoes…). Yes, there were hard days. Execrable quality of food, not to mention the quantity. On paper, it sounded like a healthy nutrition plan – lots of soy products, fat free dairy products, only 1 loaf of bread & 200 grams of meat / person… The problem, however, was the lack of choice.
Nowadays, we have a lot of choices, some of them far from being healthy. But we do have choices. It's up to us to eat healthy, to get correctly informed, to choose the right ingredients and the best recipes. It's up to us to decide what's good and healthy. This is the reason why culinary bloggers are so important and I do appreciate so much their work and dedication. With their help, not to mention the spread of the internet nowadays, everyone can be inspired to cook and enjoy amazing dishes, find out about less common ingredients or about culinary destinations, discover new flavours and combinations, and most of all, discover the people behind the blogs. Some of the blogs that keep inspiring me: Nami – Just One Cookbook, Chef Dennis, Kate -Diethood.com, Ping, Brown Eyed Baker, Verses from my kitchen, Cakewalker, Angie's Recipes, Monet, Quay Po, Lick my spoon, Orangette, 101 cookbooks and many, many more.
I enjoy visiting food blogs and browse and bookmark recipes, techniques, food culture trivia, stunning photographies or just delicious stories. I must confess I am not necessarily good at leaving comments, but believe me, staring and drooling – that's my way of being thankful

.
And, yes, I bought those poussins

. Here's the recipe!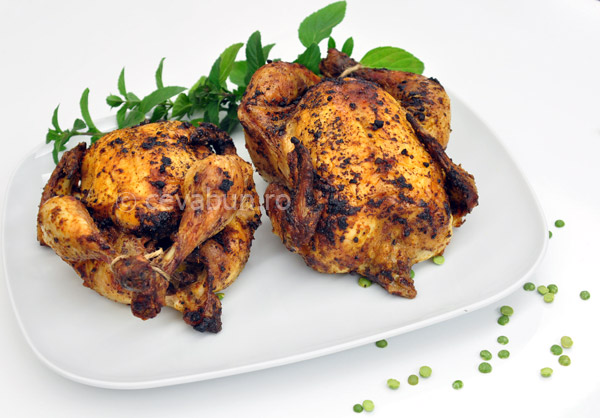 Serves 2, prep. time 1 hour
Ingredients:
2 poussins
2  tbsp butter (at room temperature)
1 tsp curry powder
1 tsp sweet paprika
1 tsp dry thyme, chopped
2 garlic cloves
salt and pepper
Preheat the oven to 170ºC/ 340ºF.
Wash the poussins and tap them dry.
Prepare the marinade:
- peel, crush and mince the garlic
- mix butter with garlic, curry powder, paprika, thyme, salt and pepper
Rub the poussins inside and outside with the marinade. Put them in zipped bags and let them marinate for a while. If you are in a hurry, you can place them directly in the oven.
Whole roasted poussins stay juicy. If you want a drier version, you need to spatchcock the poussins first, and I suggest grilling.
Roast for 45 minutes or so and serve with salads or vegetables. Enjoy!
Related Posts :
World Photography Festival - London 2011 For those of you living near or planning to visit London right after Easter, bear in mind that you might ...

After our adventure with the Uzbek plov, we have continued to cook rice in all kinds and forms: pilaf, risotto and now... biryani. It's a complete ...