Inspired by the Italian Zuppa di pomodoro, this cream of tomato soup is delicate and elegant. We have served it as a first course for a dinner with friends and, well, it was a good choice, with mint and basil smoothly combined in a creamy tomato puree.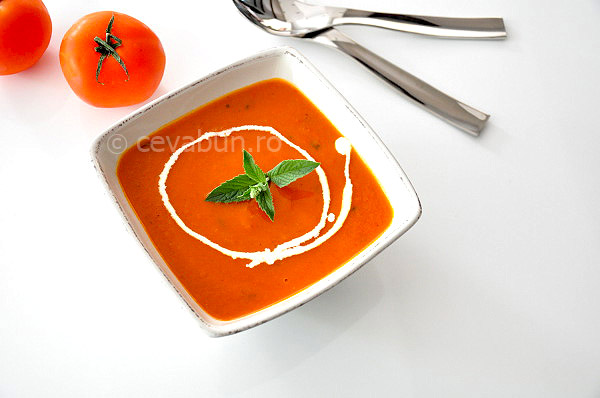 Serves 4, prep. time 50 minutes
Utensils: a stew pot, a sieve, a blender
Ingredients:
6 big ripe tomatoes
2 tbsp tomato paste
1 large potato, peeled and diced
1 onion, chopped
3 garlic cloves, chopped
3 tbsp olive oil
1 hot chili pepper, seeded and finely chopped
2 tbsp chopped basil
1 tbsp chopped mint leaves
1 tsp sugar
salt & pepper
Peel the tomatoes and dice them.
To easily peel the tomatoes, submerge them in hot water for a couple of minutes and then in ice cold water.
Heat the oil in a stew pot. Add the onion, garlic and hot pepper and sauté for about 30 seconds.
Add the tomatoes and tomato paste. Stir often. Add potato cubes and approximately 1 liter of water.
The quantity of water depends on how juicy tomatoes are.
Cook for 35-40 minutes until potatoes are well done.
Add mint, basil, sugar and salt&pepper to taste. Let it simmer for a couple of minutes and turn off the heat. Mix the soup in a blender to obtain a smooth cream. For a perfect look, strain it before serving.
Serve hot with croutons. Enjoy!
Related Posts :
Whenever I try out a new restaurant I grade it by its fish soup (where I can find one on the menu). I am really picky when it comes to fish soups, ...

Ajo blanco (white garlic, in Spanish) is a cold cream soup with almond milk, garlic, bread and olive oil. It's one of the most special recipes in ...