Well, they are not exactly recommended for those trying to lose weight, but they are juicy, spicy and hot. These chicken wings in Mexican style, served with quesadilla and guacamole, are quite a lunch for those in search of some extra-calories

. There is a curious similarity in flavors, up to a point, between Mexican and Greek food (oregano, cinnamon, cumin), although the final results are very different.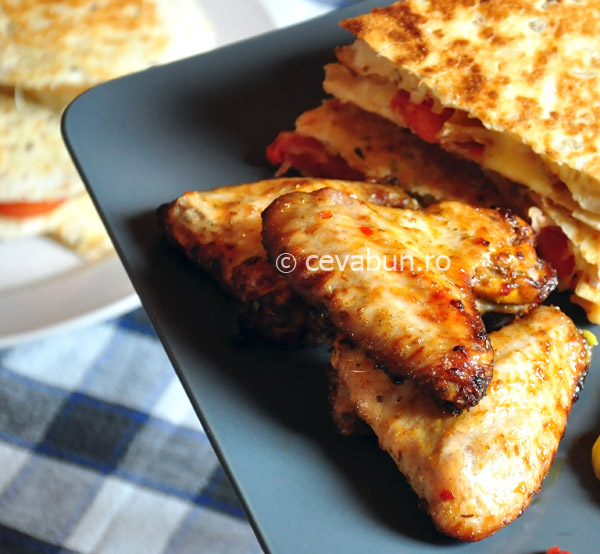 Ingredients:
16-20 chicken wings
120 milliliters orange juice (freshly squeezed)
3 tbsp olive oil
4 tbsp red wine vinegar
1 tbsp chopped garlic
2 tsp chili flakes
1 tsp cumin
1 1/2 tbsp dry oregano
1 tsp salt
1/2 freshly ground black pepper
1/2 tsp ground cinnamon
Prepare the marinade by combining oregano, salt, pepper, cinnamon, cumin, chili flakes, garlic, vinegar, olive oil and orange juice. Pour the marinade over the chicken wings in a zip bag and refrigerate for 2 hours.
Grill the chicken wings on charcoal grill, on all sides, flipping them often until golden-brown. Serve immediately with guacamole and quesadilla.
Enjoy!
Related Posts :
I've told you already about my outside griddle. Amazing cooking apparel, ladies and gentlemen. Easy to use, even now during winter time (I have to ...

While visiting Phuket (Thailand) last February, two amazing things happened: I found out that I was pregnant and I ate the most delicious barbecue ...