A simple and efficient way to use the chicken legs after preparing a hearty chicken stock, served with a perfect side dish inspired by the fascinating Arab cuisine that combines sweet and aromatic with fresh and spicy ingredients.
I love couscous in this particular combination – with fresh mint and astringent pulp of pomegranates.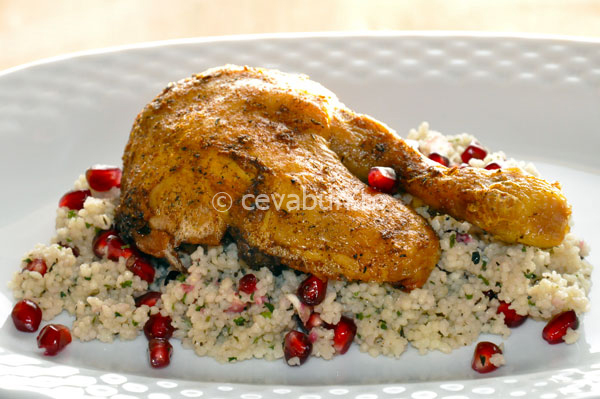 Serves 2, prep. time 30 minutes
Utensils: oven tray, soup pot with lid, a small salad bowl
Ingredients:
for chicken
2 chicken legs (boiled)
3 tbsp olive oil
1 tbsp freshly squeezed lemon juice
1 garlic clove, diced
1 tsp sweet paprika
1 tsp curry powder
1 tsp cumin
freshly ground pepper
for couscous
1 cup couscous
1 cup chicken stock (hot)
1/2 cup pomegranate arils
2 tbsp chopped mint leaves
freshly ground black pepper
Preheat the oven to 190ºC (370ºF).
In a small salad bowl mix the garlic with olive oil, paprika, curry powder, cumin and pepper.  Place the chicken legs in the tray and cover with the spices. Bake for 15 minutes in the oven until browned.
In the meantime, pour hot chicken stock over the couscous (in a soup pot), cover  and let to infuse for 10 minutes. Take the lid off and mix lightly using a fork so that the couscous remains fluffy. Add the mint leaves, freshly ground pepper and pomegranate arils and mix.
Serve the chicken legs with the couscous.
Related Posts :
After our adventure with the Uzbek plov, we have continued to cook rice in all kinds and forms: pilaf, risotto and now... biryani. It's a complete ...

Well, they are not exactly recommended for those trying to lose weight, but they are juicy, spicy and hot. These chicken wings in Mexican style, s ...