After our adventure with the Uzbek plov, we have continued to cook rice in all kinds and forms: pilaf, risotto and now… biryani. It's a complete dish, full of flavours and richness; it takes almost 2 hours to prepare it but it's worth it – slow food as comfort food, I like to call it.
There are so many biryani recipes and so many ingredients that one might use while cooking this. Traditionally, the preparation time is even longer due to meat marinating process; however, we cheated a little bit by simmering the meat in a yoghurt mixture to speed up the marinating and obtain a shorter preparation time.
The recipe below is a classic chicken biryani with dried fruits and lots of spices.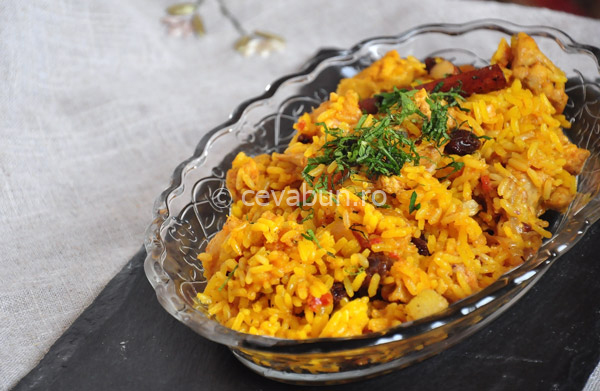 Serves 6-8; prep. time 2 hours
Ingredients:
meat
1,

4 kilograms

chicken meat (preferably, deboned chicken thighs)
1 onion
5 garlic cloves
1 canned tomatoes (approximately

400 grams

)
500 ml yoghurt
1 ginger root (8-

10 centimeters

)
2 tbsp garam masala
1 tsp ground cardamom seeds
1 tsp ground coriander seeds
3 chilies
4 tbsp cooking oil
salt & pepper
spices and dried fruits mixture
1 large onion, finely sliced
8-10 cardamom pods
2-3 cinnamon sticks
1 tsp ground cumin
1 tbps red peppercorns
1/2 cup fresh pineapple cubes
1/2 cup dried apricots, coarsely chopped
1/2 cup raisins
1/2 cup chopped almonds
1 tbsp dried cloves
1/2 tsp ground nutmeg
4 tbsp cooking oil
rice
500 grams

Basmati rice
salt
finishing
1/2 cup orange juice
150-200 ml pineapple juice
1 tsp turmeric powder
3 tbsp chopped mint leaves
Peel the onions, garlic cloves and ginger. Finely slice the onions and garlic; finely chop the ginger and chilies.
Cut the meat into fairly large cubes.
Heat the cooking oil in a large skillet. Add onion, garlic and ginger and saute for 2 minutes. Add chilies, chopped tomatoes (together with juices from the can), garam masala, ground coriander seeds and ground cardamom. Add the yoghurt and one tsp of salt. Let the mixture boil for a few minutes and then add the chicken meat.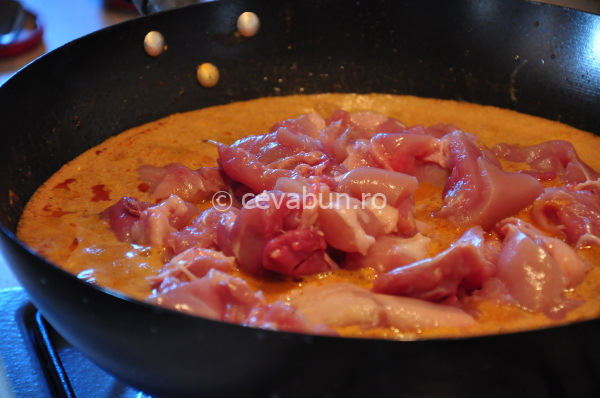 Cover the skillet and let the stew simmer for approximately 40 minutes until juices thicken and the meat is tender. You can add some water and simmer until reduces (in case there are not enough juices).
In the meantime, cook the rice. Boil it in 4 liters of salty water for 5 minutes. Strain and rinse in cold water to stop the cooking process, and leave aside.
Preheat the oven to 160ºC/320ºF.
Prepare the dried fruits mixture.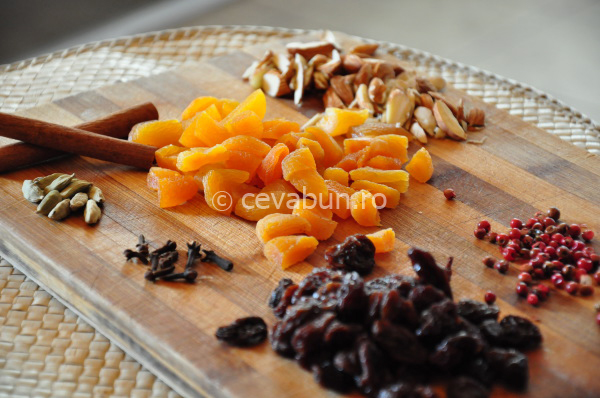 Heat the oil in a frying pan. Add the onion and saute for 3 minutes over medium heat. Add cumin seeds and saute for 30 seconds. Add dried apricots, pineapple cubes, raisins, chopped almonds, cloves, ground nutmeg, cardamom pods and red peppercorns. Keep stirring for another minute. Remove from the heat.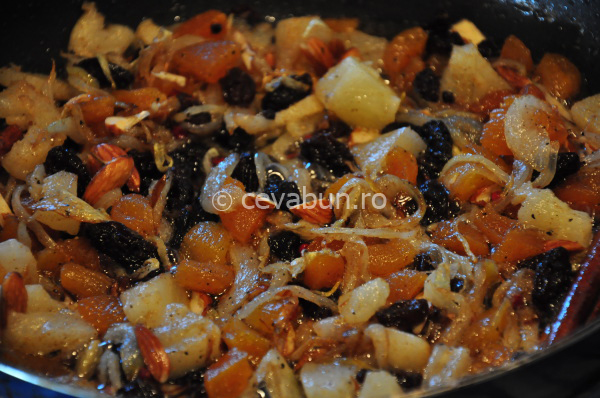 In a high glass, mix orange juice, pineapple juice and turmeric powder.
Now, arrange the layers in the oven tray.
Place a first layer using all the  meat mixture. The next layer is rice. The last layer is dried fruits mixture. Pour over the juice mixture.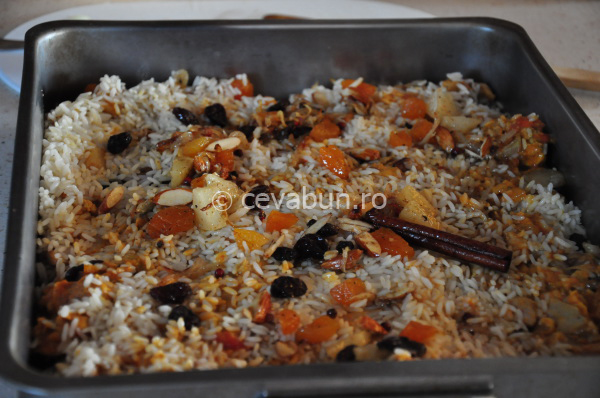 Cover (with a lid or aluminium foil) and bake for 40 minutes.
Serve immediately with chopped mint leaves on top.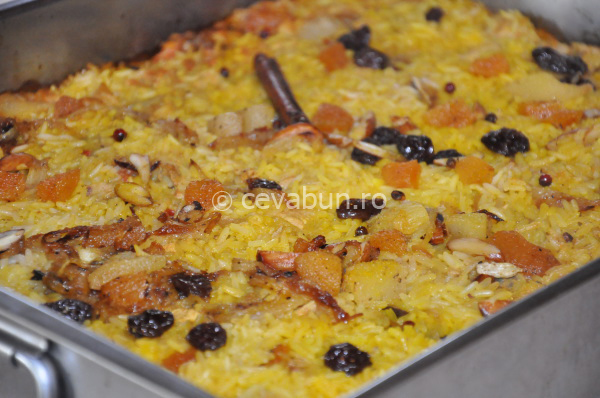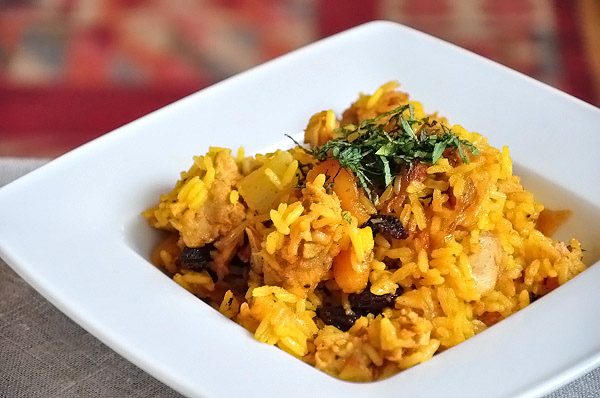 Related Posts :
A simple and efficient way to use the chicken legs after preparing a hearty chicken stock, served with a perfect side dish inspired by the fascina ...

There are various rice dishes with meat and/or vegetables that are cooked especially for celebration moments (weddings, funerals etc) in many part ...