Enjoy a light dinner with this spectacular cream soup – broccoli with a splash of lime and topped with spicy shrimps.
Serves 4, prep. time 40 minutes
Utensils: a skillet, a blender, a frying pan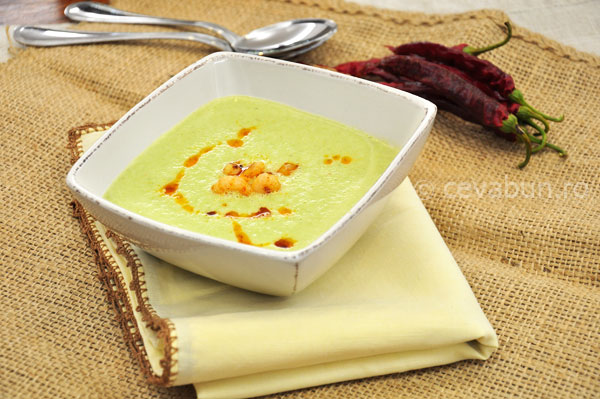 Ingredients:
1,

2 kilograms

frozen broccoli
600 ml vegetable stock
200 ml heavy cream
1 tbsp grated lime zest
5 tbsp freshly squeezed lime juice
1 tsp grated ginger
1 small hot pepper (finely chopped; no seeds)
2 tbsp butter
2 tbsp flour

120 grams

shrimps (deveined and de-shelled)
1 tsp harissa
3 tbsp cooking oil
salt & white pepper
Melt the butter into a skillet. Add flour and brown for 1 minute.
Pour over the stock, add hot pepper, ginger, lime zest, lime juice and bring it to a boil.
Add frozen broccoli and boil for 15 minutes.
The lime juice preserves a beautiful green color for the broccoli.
Turn off the heat and transfer the soup into a blender.  Add heavy cream and mix the soup in the blender until smooth and creamy. Salt and pepper to taste.
Separately, heat cooking oil in a frying pan. Add shrimps and fry for 3 minutes. Add harissa and stir well and turn off the heat.
Serve the soup with spicy shrimps on top and croutons. Enjoy!
Related Posts :
Whenever I try out a new restaurant I grade it by its fish soup (where I can find one on the menu). I am really picky when it comes to fish soups, ...

We are still in Italy for our Easter vacation and I'm the lucky winner of a free and quite afternoon. Sipping from a great espresso ristretto and ...