In the summer we love to make the most out of our outdoor grill. And we grill. Lots and lots of meat, to start with. So this salad recipe is just a normal follow-up. I really appreciate its freshness and the combination of fruits and nuts (i.e. almonds in this case). It goes perfectly with some white meat on the grill.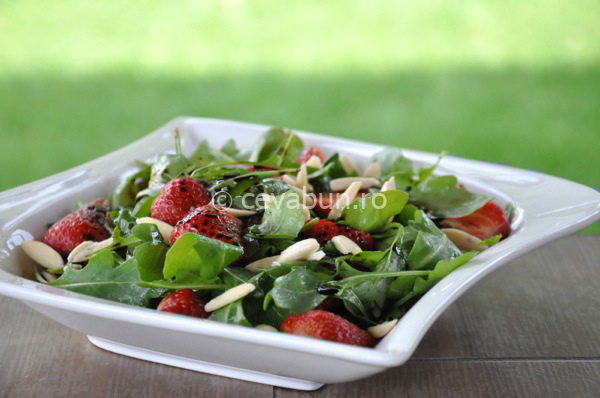 Utensils: salad bowl, salad spoons, small bowl for dressing
Serves 1, prep. time 20 minutes
Ingredients:
2 cups of arugula
1 cup of fresh strawberries
2 tbsp almonds
2 tbsp balsamic vinegar
2 tbsp pumpkin seed oil
a pinch of ground black pepper
Blanch the almonds in boiling water for 5-6 minutes. Strain them, put them in really cold water for another 5 minutes. Remove their skins.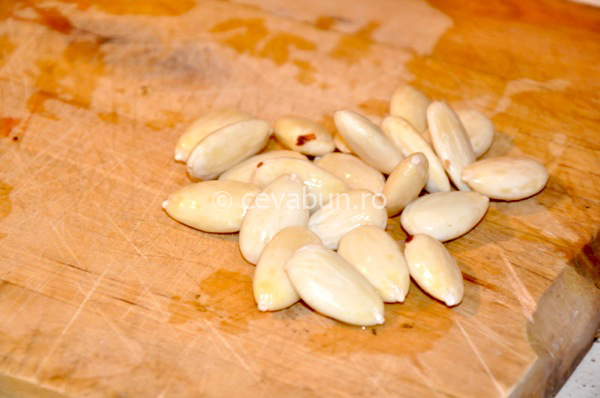 Wash and dry the arugula. Put it in the salad bowl. Add 1 tbsp of pumpkin seed oil and mix. Slice the strawberries and add them in the salad bowl.
Prepare the dressing – mix the balsamic vinegar with the rest of the pumpkin seed oil.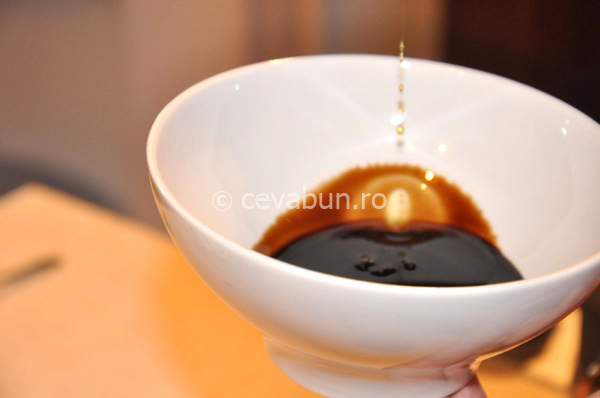 Pour the dressing over the arugula. Add the almonds on top (you can chop them coarsely) and some ground black pepper.
If you are a cheese fan, you can add some nice cubes of goat cheese.
Serve the salad immediately. Enjoy!
Related Posts :
During the fasting period, it's quite popular around here to prepare beans salads in a very simple manner - putting together some boiled beans wit ...

Ajo blanco (white garlic, in Spanish) is a cold cream soup with almond milk, garlic, bread and olive oil. It's one of the most special recipes in ...