Ajo blanco (white garlic, in Spanish) is a cold cream soup with almond milk, garlic, bread and olive oil. It's one of the most special recipes in the Iberian Peninsula, older than gazpacho with such a fresh and unique flavor. Served chilled with white grapes sliced in halves, this creamy soup is a marvelous surprise if you have some guests over.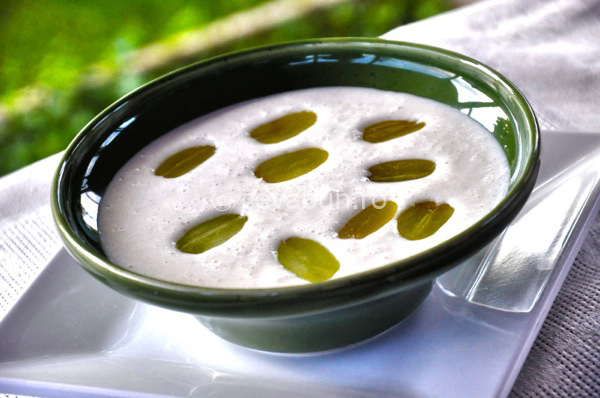 Utensils: a blender, a strainer
Serves 4, prep. time 30 min (2 hours storage before serving)
Ingredients:
250 grams

raw almonds

180 grams

bread  crumb
3 cloves of garlic
125 ml extra-virgin olive oil
125 ml red wine vinegar
20 white grapes (without seeds, if possible) – for serving
2 tsp salt
pepper
Blanch the almonds in boiling water for about 8-10 minutes. Discard the water. Put the almonds in very cold water for 5 minutes. Strain the almonds and remove their skin.
Soak the break crumb in water for 5 minutes. Peel the garlic cloves.
Put the almonds in the blender. Add the garlic and the soaked bread crumb, easily strained. Turn on the blender. During the blending, add the olive oil gradually. Add the vinegar and the salt while the blender is mixing. Add 500 ml very cold water, also gradually. You'll get a smooth, milky cream soup. Turn off the blender. Pour the soup into a air-tight container and let is rest in the fridge for 2 hours (if time allows, you could let it up to 4 hours) before serving.
Serve ajo blanco cold, with white grapes sliced in halves.
Related Posts :
Inspired by the Italian Zuppa di pomodoro, this cream of tomato soup is delicate and elegant. We have served it as a first course for a dinner wit ...

Snow again over here, lots of it; and I am almost in a Christmas mood. Or maybe it's just the cold outside, who knows... What made my evening brig ...